Multipurpose Clean 3D Text to Logo

Multipurpose Clean 3D Text to Logo – Extremely easy customization! Just drag and drop logo and music and edit/arrange texts.
Premiere Pro mogrt version: https://aedorde.com/premiere-pro/multipurpose-clean-3d-text-to-title-mogrt
Main features:
– After effects cs4 project (compatible with all newer after effects versions: cs4, cs5, cs5.5, cs6, cc)
– No plugins required
– Detailed help with all customization steps,
– Audio is created by audiojungle author alkis, and I used his great track
Glitchy Digital Crystal Logo #07 in this project (it's not included with after effects project)
– Project is created in full HD 1920×1080 resolution in 29.97 frames per second. You can very easily change parameters and render your final video in any resolution and any fps you want.
– Controls for very fast and easy project setup
Alkis about his audio file:
Glitchy and futuristic sounding, this file is suitable for neat and clean flash intros with slick and high quality logos
Controls:
– Extrusion: on/off
– Extrusion depth: 0-400% (max 300 recommended)
– Depth of field: enable or disable depth of field
– Dark version: on/off
– Glossy opacity: 0-100% (default 50%)
– Vertical version: on/off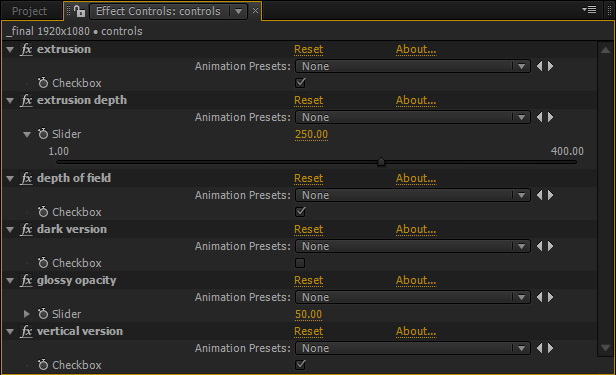 All words from the preview are included and very well organized in layer colors.
Text groups:
– Envato, WordPress, after effects, affiliate creative, community, 5 million items, tuts+, the best marketplace, forum, support, 24/7/365, work
– Business, manager, confidence, vision, skill, team, success, people, goal, authority, responsibility, leadership
– Seo, search, advertising, strategy, website, sef, ranking, meta, links, marketing
– Learn, computers, question, education, knowledge, course, lectures, technology, teaching, thinking outside of the box
– Happiness, strive, hoping, loving, joy, believe, friendship, positive thinking, generous
– Design, freelance, photoshop, clients, creative, community, work, layers, PSD, collaboration, deadline, revisions, idea, time, innovation
– Future, space exploring, research, science, genetic engineering, chemistry, solar system, extraterrestrial, 3D bioprinting
Please take a look at how all backgrounds look in full HD resolution. In examples below extrusion, depth is 250%. Click on images below:
Help file is detailed for unexperienced after effects users, and it contains all required steps for customization.
If you find any problem please send me a message from my contact page.